Have you heard about the forest fires that flare up in California? Crazy right? Did you know that those fires can serve to strengthen the rooted trees by killing pestilence and return nutrients to the soil? Strength emerges out of suffering.
Great things come out of hardship and difficult seasons.
Our nation was formed out of a bloody war, the dream of racial equality stirred amid strife and decades of contention, and the suffering of Christ brought new life to those who follow him.
There is also Star Wars when the rebel alliance is formed under the persecution of the Empire… I
digress.
My point is periods of sorrow, loss, and death are often the watering grounds God can use for awakening and new beginnings.
Exhibit A: The Early Church
After Peter and John were berated by the Jewish Religious Council, they returned to the early church believers and prayed earnestly that God might embolden them to preach the Gospel with more fervency then before (Acts 4). LET THIS BE SO IN OUR CHURCHES TODAY!!! The stoning of Stephen brought on massive Gospel spread into unreached people groups (Acts 8). The beheading of James was preceded by Paul and Barnabas answering the call of the Spirit to take the Gospel to the Gentiles (Acts 12).
The message of Jesus has never been palatable to the comfortable. Suffering is always the means by which the Gospel is delivered.
What if the uncertainty we are facing in our communities is meant to be a launch pad for powerful ministry?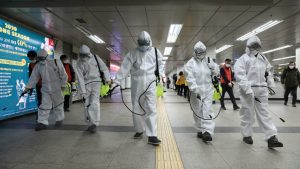 What if the American Church needed to be shaken and refocused on discipling people instead of filling buildings?
The forest is on fire and many are panicking. Will you resolve to grow as a result?
There are opportunities all around you right now to meet the needs of the hurting. Step out and be a part of the awakening!
"It is better to suffer for doing good if that should be God's will than for doing evil for Christ also suffered once for sins, the righteous for the unrighteous, that he might bring us to God, being put to death in the flesh but made alive in the spirit"
– 1 Peter 3:17-18