"You cannot find excellent corporate worship until you stop trying to find excellent corporate worship and pursue God himself."- D.A. Carson
Today, every street corner has a church in America. We are inundated with all sorts of denominational and style choices which leads many Christians to go through a "church shopping" phase at some point in their life. Honestly, I hate that term. A church is not like a pair of shoes you can go "shopping" for. More importantly, what is the means by which we decide on the local body we commit to when searching for a new body of believers. Do you decide on a church because of the music style? Traditional? Contemporary/Modern/Relevant? The programs for your kids? The dynamic way the preacher communicates? The friends that can be made? Or do we decide based on the lives being transformed through the ministry and genuine desire to follow Christ exhibited through the people? We must approach corporate worship in the local church with an attitude of giving rather than getting. Look past the shallow outer trappings of a church! If you pick a church for selfish reasons, your commitment will be fickle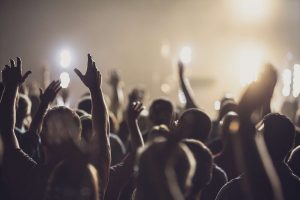 and you will soon flit off somewhere else to "meet your needs." Knuckle down and commit to one local church! Go all in with warts, sin and all. You need to come alongside brothers and sisters in Christ in faithfulness and give and receive accountability.
"And let us consider how to stir up one another to love and good works, Not neglecting to meet together, as is the habit of some, but encouraging one another, and all the more as you see the Day drawing near" – Hebrews 10:24-25

As the worship leader of an inter-generational church, I have had some conversations with older folks about contemporary music and some with younger folks about more traditional worship. In both cases, any complaint usually comes down to a wrong mindset about corporate worship in the church. A Sunday morning meeting is not for you to come and take in a "service" in the same way you would receive fast food "service" at Taco Bell. This is an opportunity to praise the Lord together through song, tithes and offering and participating in the preaching of God's Word. It's about preparing our hearts to receive from God (which a lot of times means giving and serving!) and hearing his name lifted up in whatever way! The means of praise does not matter, as long as the hearts of God's people are focused on him above the accoutrements of worship gatherings that often take the place of God as the object of our worship.
I appeal to you therefore, brothers, by the mercies of God, to present your bodies as a living sacrifice, holy and acceptable to God, which is your spiritual worship. – Romans 12:1
Check out this video…..
As Piper said, when we worship together it brings the presence of God and gives us power to continue in steadfast faith. Hebrews 10 calls us to stand firm to our confession within the context of verses 24 and 25. Our meeting together is not insignificant. It is a divine transaction when we, as the church, unite together in praise of our God and declare him worthy of all affection. It is a glorious foreshadowing of the endless worship we will be giving in the new heavens and new earth as the eternal Bride of Christ; the church.
HOW DO YOU PREPARE FOR CHURCH IN LIGHT OF THESE TRUTHS!?!? Many of us think nothing of staying out late Saturday, coming in late to church and allowing ourselves to get distracted during the worship meeting itself. Don't miss out on what is happening in our corporate worship by being nonchalant. Prepare yourself, engage and expect God to do awesome wonders when we worship together. Some more thoughts on this point from Bob Kauflin.